A great start to wonderful Mexican cuisine.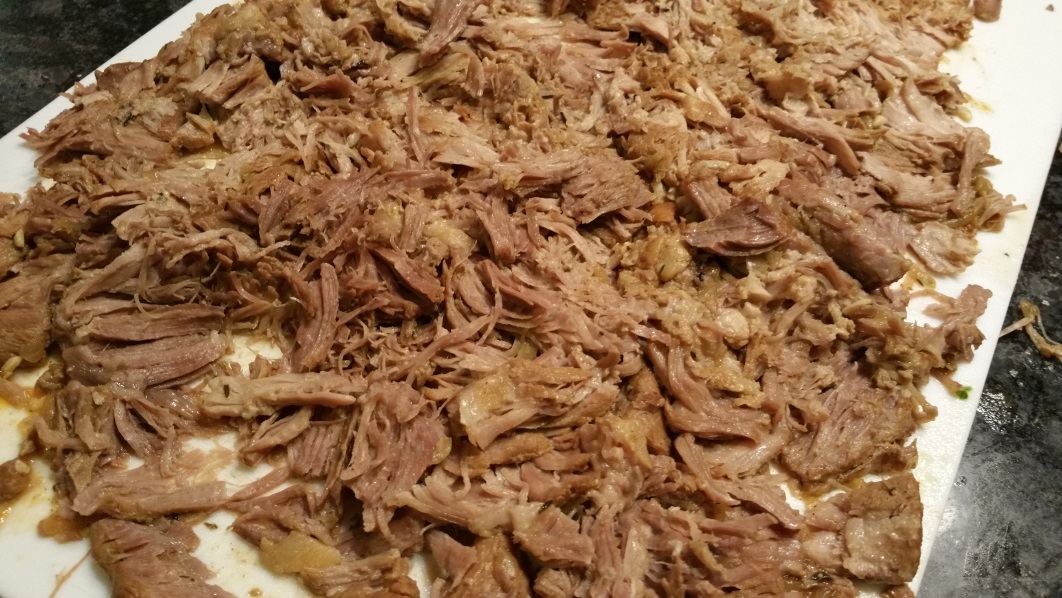 Original source: Allrecipies
Ingredients
6 - 8 lb. pork shoulder (Boston butt roast), cut into 2-3 in. pieces
2 onions, chopped
2 cloves garlic, crushed
2 tbsp. olive oil
2 32 oz. containers chicken broth
1/4 cup lime juice
seasonings:

salt & pepper
cumin
chili powder
oregano
thyme
dried yellow mustard
Equipment
large skillet
dutch oven
cutting board & knife
Setup
none
Process
Heat oil in skillet and brown all sides of each piece of meat.
Combine all ingredients except broth in dutch oven. I usually do 1 tbsp. chili powder and cumin to 1 tsp. other seasonings
Add broth until ingredients are mostly covered.
Heat to boiling, then simmer for up to 3 hours.
Remove from pan and place on cutting board. Shred pork between two forks.
Optional: Can bake in 400°F oven for 20-30 minutes until browned further.
Notes
2016-12-12 - Made really delicious burritos and nachos for Monday Night. I saved the broth to use as a chili base later this winter