As I've started making more and more homemade food, I've taken a hard look at what I cook to try and find ways I can make it better. One thing I noticed was that all my homemade pasta deserved a nice, homemade sauce to go along with it. Enter my version of bolognese.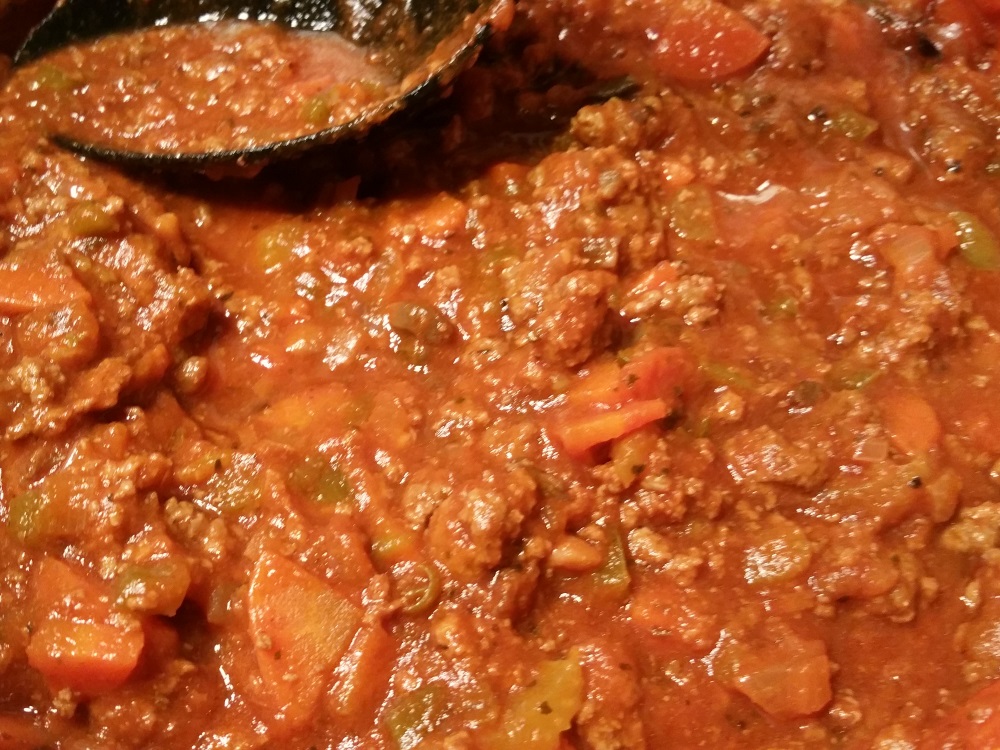 I know, I know, it isn't real bolognese, but it isn't just everyday tomato sauce either. I think this fits somewhere in-between, and it is my go-to sauce whenever I make homemade pasta.
Update 2018-03-03: This is a recipe I constantly improvise on, and the version I've settled on is a bit different than what I have posted here. Click here for my better bolognese sauce
Ingredients
1 large onion, chopped
2 carrots, chopped
2 celery stalks, chopped
3 cloves garlic, minced or microplaned
1 tbsp butter or olive oil
2 large cans tomato sauce
2 fresh tomatoes (optional)
1-2 lb. ground meat, browned
1/2 cup chicken stock (optional)
1/2 cup heavy cream (optional)
seasonings

salt
pepper
oregano
thyme
basil
red pepper flakes
Equipment
large dutch oven or large pot
Process
Heat butter or oil in dutch oven until shimmering. Add onion, carrots and celery and cook until softened, about 5 minutes.
Add garlic, cook until aromatic, about 1 minute.
Add tomato sauce, stock (if using), tomatoes (if using), and meat. Heat to a simmer, and simmer for at least 30 minutes.
Add the cream (if using) and stir well.
Serve with lots of freshly grated parmesan cheese.
Notes
2016-02-20 - Good as always!