CIS 527

Lecture 5 - Permissions & Security
Windows Updates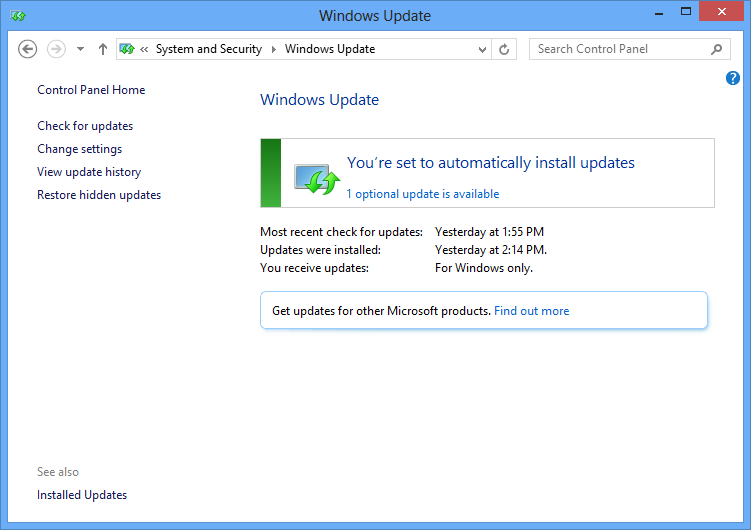 Ubuntu Updates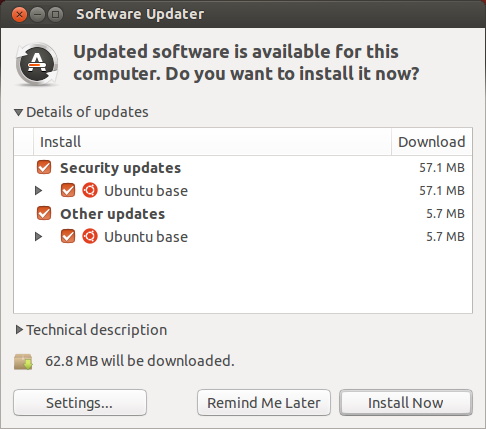 Advanced Packaging Tool - APT
apt-get install <package>
apt-get build-dep <package>
auto-apt run <command_string>
apt-get update
apt-get upgrade
dpkg-reconfigure <package>
apt-get remove <package>
apt-get purge <package>
Windows Firewall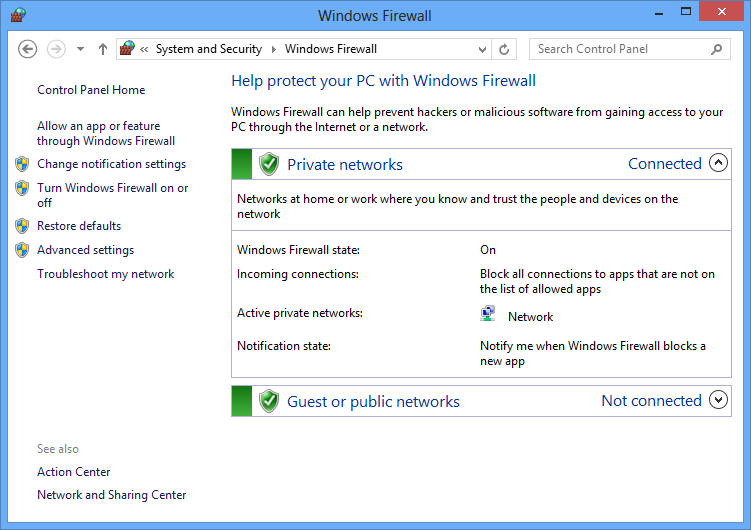 Ubuntu Firewall (UFW)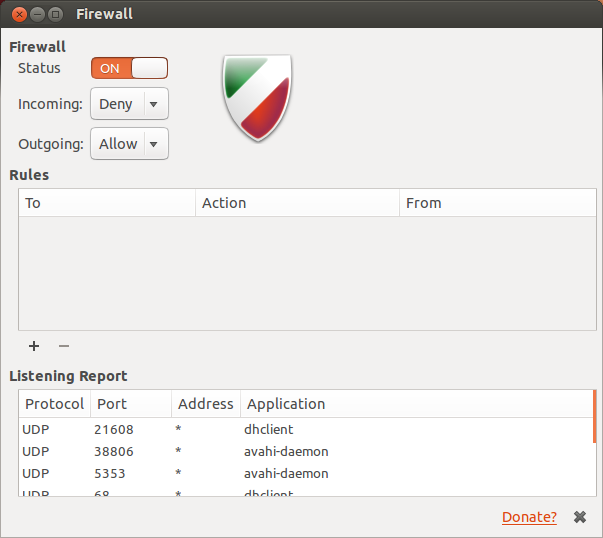 Uncomplicated Firewall (UFW)
ufw allow <port>
ufw allow <port>/tcp
ufw deny <port>
ufw delete <original_rule>
ufw allow <service_name>
ufw allow from <ip_address> to <ip_address> port <port>
Iptables


iptables -A INPUT --dport <port> -j ACCEPT
iptables -A INPUT -p tcp --dport <port> -j ACCEPT
iptables -A INPUT -p tcp --dport <port> -j REJECT
Must save and restore rules on restart
Trend Micro AntiVirus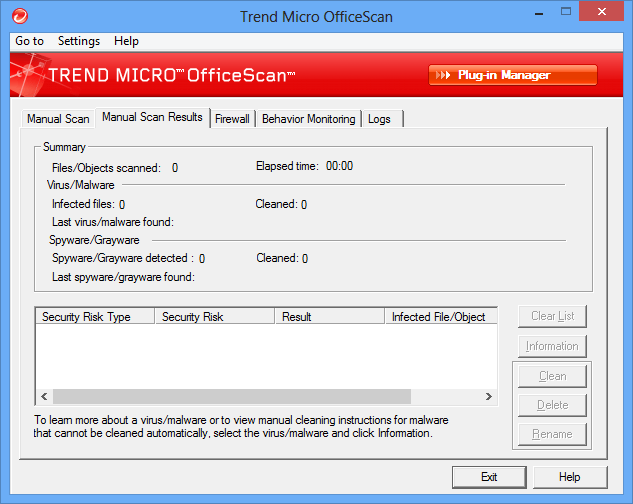 ClamAV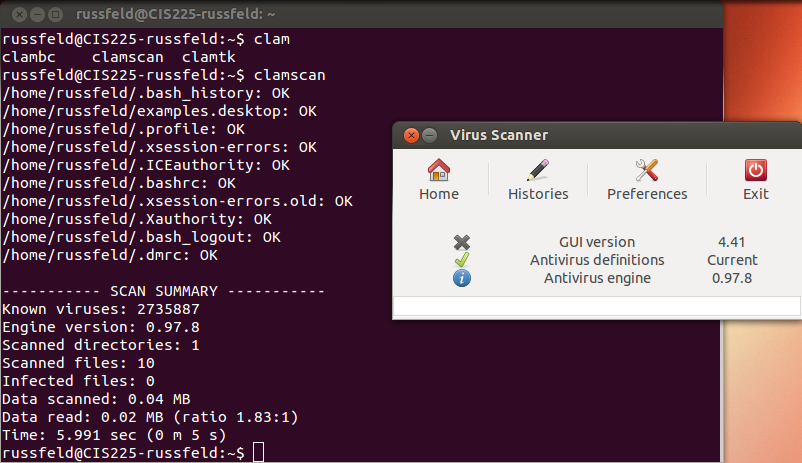 Software Evaluation


You work for an insurance company
You receive a request to install unknown software on a system


How do you ensure the software is safe to use?
What are the risks?
Reputable Sources


Verify the software comes from a well-known source
Do they create other programs?
Have they been reviewed?
Support Offerings


What does the company offer for support?
Is there an active user community?
Are there common problems reports in forums
Can you request in-person help if major issues arise?
Company History & Coding


Does the company have a history of software issues?
Do they have proper coding practices in place (code reviews, secure processes, etc.)?
Are they frequently issuing security fixes? (Is that a good thing or a bad thing?)
Code Signing


Similar to Web Security certificates
Allows publishers to verify that the software came from them
Can be subverted if the root certificate is compromised
Ex: Windows WQHL Drivers
Checksum Verification


Many sites provide checksums for software that can be downloaded
Verifying the checksum ensures that it hasn't been changed or corrupted
Data Storage & Access


Where does the program store data?
Is it encrypted or plain-text?
What data does it request?
How does it use the data?
Monitor Network


Once software is installed, it usually has full network access
Use tools such as TCPView and netstat to monitor network connections
Look for connections to random servers or large data throughput
Network Usage


What data does it send through the network?
Is the data encrypted or plain-text?
What protocols and ports does it use?
Read the license agreement; it may surprise you
Make sure you understand EVERYTHING that it covers
Acknowledge the rights you are giving away
Use Testbeds


Test the software on a variety of systems
Spend time testing (don't just install and review)
Test on a variety of systems and configurations
Roll out in stages in large organizations
Install Updates


Install updates provided by the manufacturer
Test updates before installing
Monitor the system and report bugs
Permissions


Determines which users can read/write files
Based on user and group memberships
Helps prevent unwanted access to files
Windows Permissions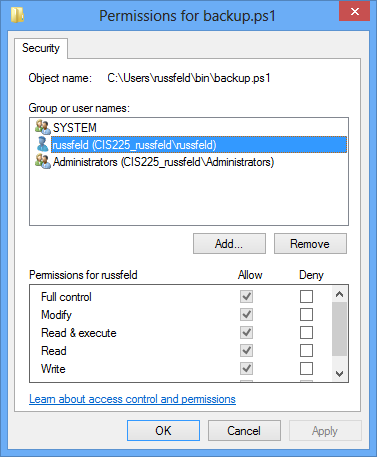 Windows Permissions


Full Control - Can take ownership & change permissions
Modify - Read/Write/Change/Delete
Read & Execute
List Folder Contents - Folders Only
Read - Access files
Write - Modify files
Ubuntu Permissions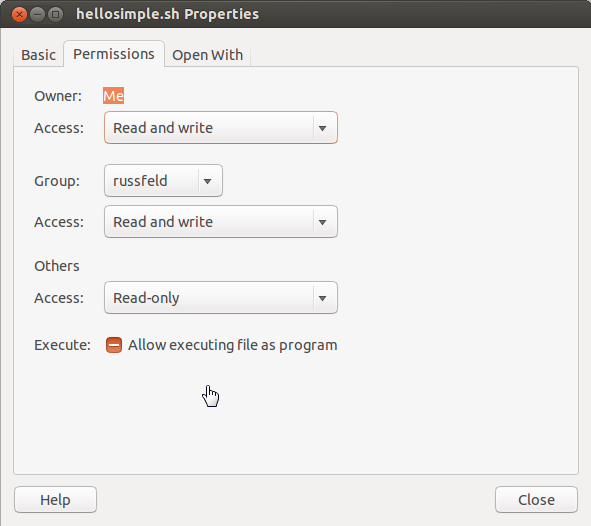 Ubuntu Permissions


3 classes: User, Group, Others
3 rights:

Read - Can read contents
Write - Can create/modify/delete
Execute - Can run programs/scripts
Modifying Ubuntu Permissions
chmod - Change permissions

chmod [class][op][mode] file/folder
chmod [octal_mode] filename/folder

chown - Change User/Group (sudo)

chown [user]:[group] filename/folder

chgrp - Change Group (must own file)

chgrp [group] filename/folder
Octal Modes


R = 4, W = 2, X = 1
Sum the numbers to get mode
660 = rw-rw----
644 = rw-r--r--
700 = rwx------
chmod 644 <filename>
Assignments
Lab 1 - Secure Workstations - Due Sunday, Feb 9th by 12:30 PM
Build secure Windows & Linux using VMWare Workstation
Turn in:

CIS Transient Storage
via Storage Media in class Monday Feb 9th